Epilators are small, hand-held electrical appliances that remove hair by grasping several hairs at once and pulling them out by the root. This method for hair removal essentially works the same way that waxing does. When the liquified wax hardens on the skin it completely envelopes any surface hair and removes it by the root when the wax is pulled off. Unlike waxing, epilation preserves the natural structure of the skin as it is gentle on the epithelial cells of the epidermis. Other hair removal products require you to engage in the application of messy depilatory creams or extremely excruciating waxing sessions. The Braun epilator gives you the results of all of these, without the mind-numbing pain and the quick regrowth that other hair removal methods produce. If you are looking for the best epilator in 2017, then continue reading this guide.
Additionally, waxing will also remove microscopic skin cells from the outer epidermis requiring an additional healing process that is less pronounced by epilation. Although the hair is pulled out by the root, the entire root is not removed from beneath the skin. This is why hair growth returns after four to six weeks – depending on your personal hair growth rate. The first epilator designs used spring coils to grab and pull the hair. Introduced first by Epilady in the mid 1980's, the coiled spring would open and close as the internal motor rotated the spring. Folded in a bow shape, the flexing would open one side while tightening or closing the other side as it was passed over the skin. Surface hairs would get caught in the tightened coil and pulled out. The coiled spring design was effective but required periodic replacement of the springs due to the constant tension and stress when used. Springs were sold separately as a replacement part with this type of epilator.
The next generation of epilators improved upon this design by using rotating discs instead of springs. First developed by Remington, the "Lady Remington" worked similarly to the Epilady's coiled spring design except that discs were rotated to open and close instead of the spring. The rotating disc was preferred by many users because it was less painful (slightly) and was more efficient in the amount of hair removed per pass of the device.
Today's epilators have improved upon the rotating disc so that the discs function more as tweezers. When the device is placed over the skin, this new design allows for multiple metal plates to open and close much like a tweezer would. The tweezers close when in contact with the skin and then open when the head rotates allowing for continuos pulling and releasing of hair. This is much more efficient and allows the epilating process to be quicker and less painful. Most manufacturer's have moved to the tweezer style epilator with even more enhancements and features available today.
Best Epilators in India
There are many brands of epilator available in India. They differ in features, sizes and price. Here are some of the top quality epilators available in India.
Epilady Hair Removal Legend Rechargeable Epilator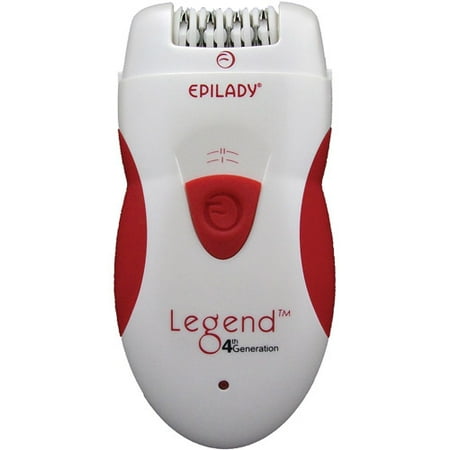 If you are tired of continuous shaving unwanted hairs or suffering from painful wax treatments, try epilation. A good model to start with for first timers is the Epilady Legend Epilator. The Epilady Hair Removal system is known for its constant record of customer satisfaction and some are still users of the old Epilady models for several years preferring it over other brands and newer models of epilators. The Epilady Hair Removel Epilator has several features that makes it superior to other brands. You will enjoy fast and smooth action from the wide head of this model, giving you soft, stubble-free hair every time you use it.
It has a dual voltage adapter so you won't have any problem with charging it when you are in other countries. You won't worry about bringing a voltage adapter or getting your unit toasted when you plug it in.
The Epilady Legend Epilator has 40 tweezers and has a fast action, giving you 32,000 tweezing actions in one minute.
Even the shortest and finest hair can be pulled out by the roots so there is no stubble or shadow for four to six weeks.
The Epilady Legend Epilator is ergonomically designed for comfort. The rubber grips make sure that your hold is firm and that it won't slip from your hands.
New users, and even seasoned ones, can use the Perfect Guide that puts the Epilady Epilator, at a 90 degree angle for a seamless epilation that is much better than a salon treatment.
With operating speeds to suit your needs, so you can use it for coarse and thick or for fine hair.
A full charged battery has a life of 80 minutes. You also have the option to use it directly plugged to an electrical outlet. The dual volt makes it safe for use abroad.
Braun Epilator – SE7781

The Braun epilator is a 40-tweezer epilator that comes with a pivoting head and a revolutionary method for hair removal. The process of epilating may seem frightening to some women, but the Braun epilator focuses on the providing you the most comfort by significantly reducing the pain and the discomfort that usually come with epilating. Other epilators use simple pinch and pull technologies to remove body hair, but the device veers away from this. The traditional pinch and pull method for body removal can be very painful, most especially for women who have never tried epilating. The Braun epilator is built with Xpressive features that massages and stimulates your skin before finally removing the hair. After hair has been removed, the area is soothed to reduce further pain. Included in the Braun Epilator Package are Olay Pre-Epilation wipes that are applied to soften the skin, loosen the pores, and make the process even more painless.
Philips HP604 Satinelle Epilator

Using an epilator won't irritate your skin like harsh hair removal chemicals or waxing can do. This product has two speed settings and also comes with a protective cap to remove hair from sensitive areas such as arm pit or bikini line (for daring ones). It, however, sounds like a tiny lawn mower and blades appear a little scary, but all that is not existent once one starts using it and hair gets plucked out. The downside is that faster epilators are considerably more expensive, their price starting from $50 going way up to $100 or even more. Once you have prepared your skin and made sure that it is dry, you need to select the preferred speed. There will be no nicks or cuts, like if you used a traditional razor on your legs.
Their price is firstly justified because you get at least 40 tweezers that speed up the epilation session and secondly because they come with more accessories/caps (facial cap, underarms cap or sensitive area cap, to name a few). As the hair is actually plucked out, you need to make sure that the skin is held taut otherwise the plucking action will also pull at the skin which would be very painful indeed especially in more sensitive areas. The Philips HP6401 Satinelle epilator is used dry on your skin. You'll want to ensure your skin is clean and dry before you use your Philips HP6401 Satinelle.
Panasonic ES-ED90-p Wet/Dry Epilator
As the saying goes, "you get what you pay for.", and with the Panasonic ES-ED90 Wet/Dry Women's Epilator, you definitely get your money's worth. There's something really great about this one. The super luminosity LED light illuminates hairs so that you can find any un-removed hair easily. Normal mode is the faster of the two and allows for epilation to be performed in the shortest time. The ES-ED90 is one of the first epilators that i got to run my beady eye over and i have to say it comes up trumps.
In fact, there are plenty of great things but I want to talk about the fact that you can use it to remove hair from any part of your body, be it legs, arms, bikini line and underarms, expect facial hair removal. The additional foot care attachment allows you to effectively remove dead skin cells and smooth out calluses from your feet. To change to soft, press the button again – a green lamp will light up to indicate that the device is in soft mode.​Soft mode slows the rotation speed of the discs to minimize personal discomfort and irritation. Offering a 60-degree wide head that spins and flows with the natural contour of the body is just one of its features and i thought it best to start with these to see what sets it apart from the competition.
Choosing the best epilator
Longer-lasting smooth skin You might be tempted by claims that epilators leave skin looking and feeling smooth for longer than shaving. When it comes to the 'perfect' epilator – there is no such thing. Being wet and dry, it's also cordless – charging takes 1 hour and it's functional for up to 40 minutes. The spring type epilator has springs that are coiled together or apart so that when in use the springs capture the hair and pull it out. Some epilators claim to leave long-lasting smooth skin for up to four weeks, but how long this will last depends largely on how quickly your hair generally grows back.
It is entirely a personal decision as to what style, features, price and brand is right for the individual in question.
It's easy to clean since it can be washed without any problems, no worries there.
Because these springs are flexed continuously, they tend to fail often.
You must make sure that that the epilator that you are choosing is suitable for the area of hair that you wish to remove.
It is possible to find a wide range of epilators online – eBay have a broad selection to choose from, and a search can be carried out based on the most important features. >
Some users have complained that after a while the battery stops holding a charge so it would be best to prolong the 2-year warranty, just make sure that it covers the battery, too. Even so, don't worry because the springs can be bought separately and you can change them anytime you like. You should look carefully on the packaging to determine which area of the body that the epilator is suitable for. About epilation now, these days there are great deals of epilators models to look over and it might be a dreary assignment to get the one that best suits your requirements and your skin type. I believe as a woman, you know the kind of skin you possess.
The question between wet and dry is a question of convenience. You can find epilators that are suitable for the legs and arms only; the legs, arms, bikini line and under arms; and you can also find epilators that are suitable for the legs, arms, bikini line, underarms and the face. Despite the fact that costs can shift significantly among epilators, even the less costly ones can be successful for a few employments. While most people normal skins, some people have highly sensitive skin that reacts with things other people may not react to. Epilating with dry hair and skin is undeniably more effective, as the hairs aren't weighed down by water nor do they stick to your skin.
Things that usually bothers many woman who want to use epilators is safety, pain and irritation associated with most traditional hair removal. You will definitely be epilating for less time when you're working with a dry leg, but the ability to epilate in the shower is pretty invaluable.